Bill performs as lead singer/guitarist on the east coast with his original band, Blonde Furniture, and in LA with collaborators, Mike Alvarez, Matt Jansky and Ruben Ramos.
Scroll down for links to Bill's music websites containing many more videos.
BilL Dumas Live at the WHISKY-A-GO-GO
March 2007, Los Angeles, California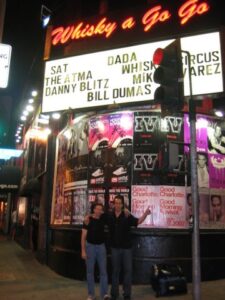 September, 2019, New London, Connecticut
Blonde Furniture performs, Model Citizens, the first song recorded by the band in 1983 for their …Has More Fun vinyl EP and recorded for their latest album, Music for Early Century Modern.
Bill Dumas with Matt Jansky
at Kulak's Woodshed
Laural Canyon Blvd., N. Hollywood, CA